The Production Suite Agency sources and contracts acts and artists
Its focus is to inspire your audience with entertainment solutions to communicate your company's message. We answer your brief, your aims and your objectives with a bespoke package of exciting entertainment to inspire your audience.
Our knowledge, experience and thorough sourcing of acts and artists ensure we only present first-class professionals to you.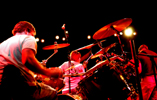 We have an extensive database of the more commonly requested acts, artists, comedians, bands, circus artists, master of ceremonies etc. and an ever-developing catalogue of the more unusual. In fact we're often tasked with finding something our clients and you might term out of the ordinary. If you are looking for something that makes a statement, just ask us, we are confident we will blow your socks off!
Whether you're looking for a famous artist, a great party band or something extraordinary, give us a call, we will present you with some great artists and ideas to delight you and make your event a storming success. We have built our reputation in the profession by providing our clients with outstanding entertainment, which is dynamic and pertinent to their objectives.
Information for acts and artists
If you have a first-class act and want to be considered for bookings, we want to hear from you... please go to our
contact page
.